LOTS of  Green Tomatoes
This is the fourth year that I have grown tomatoes in a raised garden, but it's the first year that I have had tomatoes or any other plants that have grown with such gusto. I do believe it is the soil I used this year, but that is a story for another time.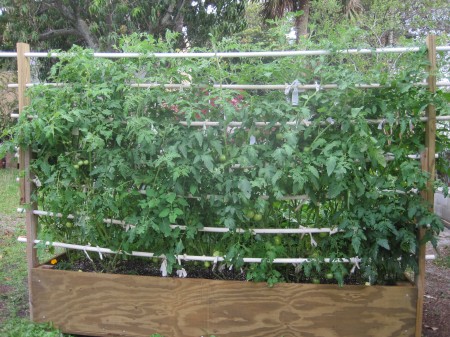 Tomato Plants
Green Tomatoes
I have so many green tomatoes that the temptation to fry up a bunch… even before I have had ripe ones… was just too strong.
Gave into Temptation
I couldn't resist any longer and picked two of the biggest green ones on the vine to make fried green tomatoes.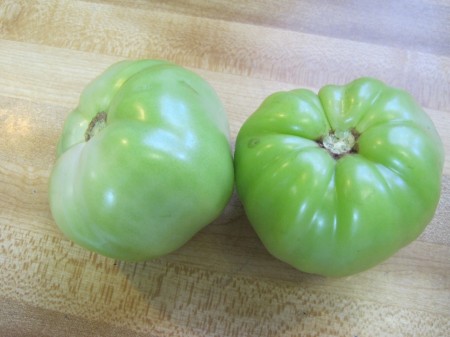 Green Tomatoes
How to Fry Green Tomatoes
While there is no mystery to frying green tomatoes, there is a difference of opinion among cooks as to whether flour or cornmeal should be used. I am totally a flour person. Period.
Firm, green-as-grass tomatoes are  sliced about 1/4 in thick,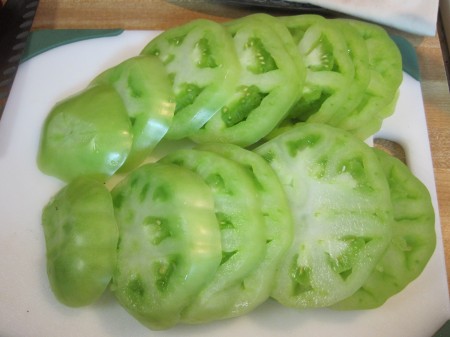 Sliced Green Tomatoes
 lightly salted and dipped in flour… front and back.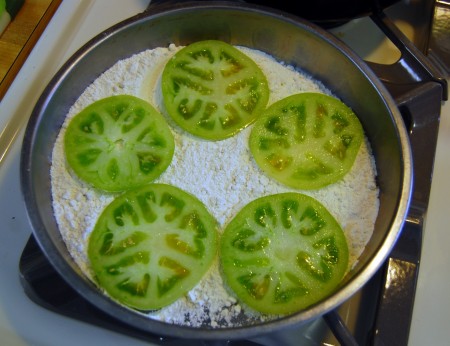 Flouring Green Tomatoes
Place the tomato slices in a heated skillet with oil on medium high heat.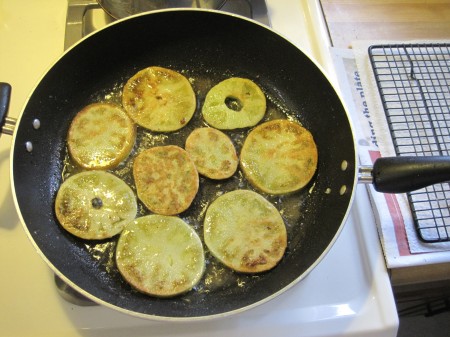 Frying Green Tomatoes
Turn the tomatoes when the side is lightly browned. I have found that a large fork works way better than a spatula for turning the tomatoes. Watch the tomatoes closely, as they cook pretty fast.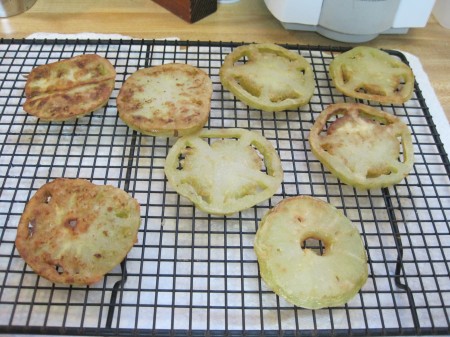 Cooling Fried Green Tomatoes
When they are done, remove the tomatoes with a fork and place them on a cooling rack that allows any extra oil to drip off.
I have to say that most times, the finished product never makes it to a plate. I eat them right from the rack. Yum! I am the only one in my house who likes them, so the standing dining experience is all good. Lucky me!
Tags: above ground garden · fried green tomatoes · Raised Garden · Tomatoes2 Comments