Apple Green and Lightning Fast (Sort Of)
Heading out to the car this afternoon, a flash of intense green made its way down the front fence. Actually, the flash was the color, not the speed. It was a Cuban Knight Anole.
Cuban Knight Anole
This particular specimen is 16 to 18 inches long. Anoles can grow to 20 inches. The sun shining on his skin makes him look positively iridescent. Anoles will change their skin color if they get stressed, but this guy picked the best he had.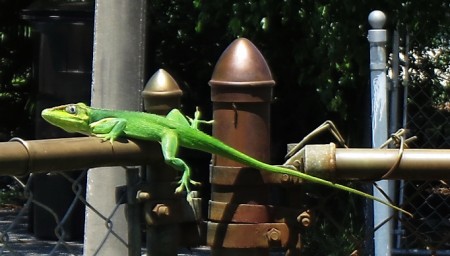 Cuban Knight Anole
First Meeting
Neighbor Bill (Jacqie) Jackson, who has lived in Florida for a year and a half, had his first meeting with another of Florida's free range critters. Something this intensely green and 18 inches long makes an impression.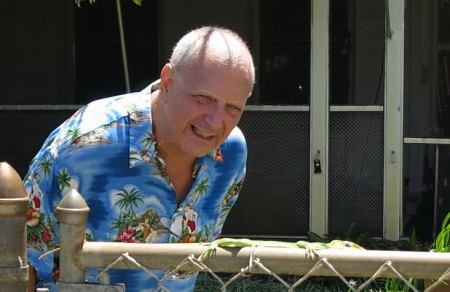 Neighbor and Anole
Pretty and Useful
Anoles live high up in tree trunks and tree canopies. Not sure where this one came from, but we've had a pair of anoles live in the canopy of our palm tree in the past.

Cuban Knight Anole
They aren't just pretty faces, either.
They eat insects, which helps my garden; they also eat smaller lizards, flowers and fruit… which isn't as big of a help.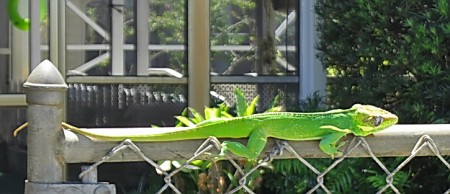 Cuban Knight Anole
For a closer look, click on any picture to make it larger, then click on the right or left side of the image to move through the pictures.