If you own a circular saw, you can build your own backyard raised vegetable garden. If you just Googled 'circular saw' and are still planning to build your own, please google 'how to reattach fingers', too.
Really, there is nothing to the construction. Cut three long, even strips from a full sheet of plywood, cut one of those strips in half and screw them all together to create a 4'x8′ raised garden box. The steps below took me about four hours and I'm not very good at this sort of thing. No big deal, I swear.
How to Build a Raised Garden Box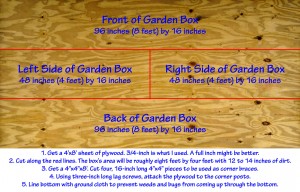 Step One: Buy your raw materials.
one 4'x8′ sheet of plywood

I used 3/4-inch pressure treated plywood because that is what I had leftover from hurricane season. Some feel that the wood protecting chemicals will leach into my food and kill me. They may be right. If I was to go out and buy something, I'd probably get one-inch non-treated plywood — the 3/4-inch plywood bows out a bit in the middle from the weight of the soil.

If your lumber yard isn't too busy, have them rip the plywood into three, 16-inch wide strips and cut one of those strips in half. I'll save you time, make it easier to get the wood home and they will do a better job of cutting a straight line than you will.

one 4″x4″, eight feet long

You'll need to cut four, 16-inch long pieces to use as the corner supports.

16, three-inch lag screws

Drill pilot holes to make your life easier and to keep the wood from splitting.

40 square feet of weed barrier cloth

This is the only purchase I made for this project. Everything else, I had left over from other projects. A three-foot wide, 50-foot long roll of weed control fabric cost me $15.47. If you're more environmentally-minded and prefer to use recycled materials, line the bottom of your box with old newspapers a couple layers deep.

1/4 or 3/8 inch staples (to attach the cloth)

I ran the weed control cloth a few inches up the sides of the box and then stapled it to the inside. You could also lay the cloth out flat, set the box on the cloth and then cut it even to the box (so the weight of the box keeps it in place). If that is the case, you may not need staples.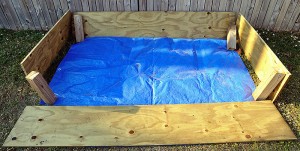 Step Two: Cut three, 16-inch wide by eight-foot long strips of plywood. Cut one of these strips in half. (See the above graphic and cut along the red lines.)
Step Three: Cut four, 16-inch long 4″x4″ pieces.
Step Four: Organize all the wood as shown on the above photo. Now would be time to have someone help you hold stuff.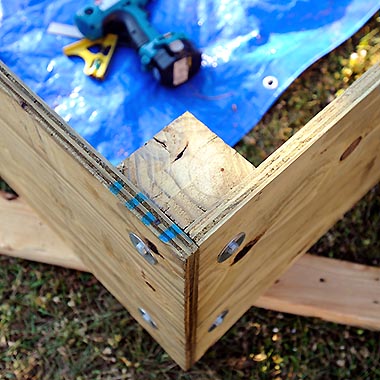 Step Five: Drilling pilot holes first to prevent splitting, attach the plywood strips to the 4″x4″ corner posts using three-inch lag screws. Make sure to carefully align the top of the 4'x4′ with the top of the plywood.
The long plywood strips sit outside (cap) the short plywood strips. This gives the wide side of the box a finished look. If you want the short side as the front, do the opposite.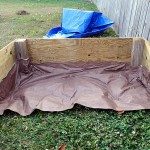 Step Six: Attach the weed control cloth to the inside of the box. This is critical. We don't want grass or bugs attacking from below. A good quality weed control cloth attached well will keep bugs and unwanted plants our for a season or two.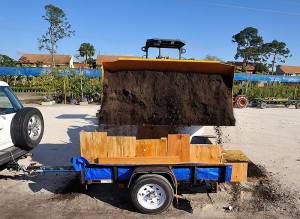 Step Seven: Get some good quality soil. I paid $20 for bucket-loader full of soil from Art by Nature Garden Center. That was plenty of dirt to fill your 4'x8′ box 12 or so inches deep. Everything I have read says eight to ten inches should be plenty of dirt. My box walls are 16 inches tall so I opted for a deeper garden. Call me an overachiever.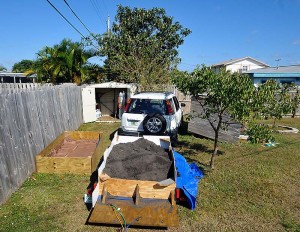 Step Eight: In terms of raw, physical labor, this step is the worst of the batch. Unloading that much dirt is a full upper body and abdominal workout.
Hint: unload the when the dirt is dry. As my father learned when he shook hands with sandbags during a Mississippi River flood, dry sandbags weigh less than wet sandbags.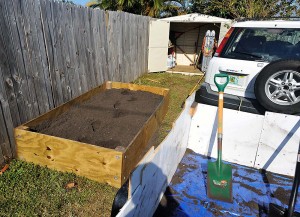 Step Nine: Stand back and admire your wonderful new raised vegetable garden.
How Did You Do It?
Do you have a backyard raised vegetable garden that was similarly constructed? If so, drop me a note and, better yet, a picture. I'd love to see what yours looks like.
—Farmer Matt
Tags: 13 Comments