The moment I finished my initial raised vegetable garden and got the plants in, I knew its 4'x8′ size was too small. I needed more space.
What I Did Not Get Planted
I wanted watermelon, ripe by the fourth of July. I wanted cucumbers and snap beans. Jan Norris surprised me with two strawberry plants and I didn't have room for them. Thus, I needed more space to grow food.
Construction Details for the Vegetable Garden Annex
[this space intentionally blank]
No planning at all went into the annex. I looked in my shed for leftover wood. I kinda, sorta cut some plywood so it was mostly square. I guessed on most measurements. It was a wreck. No design — structural or aesthetic — went into this build process. (Which is why you'll never see the annex on the web cam.)
Both beds have about eight inches of soil. Both have weed control cloth at the bottom. Both are held together with spit and bailing wire.
What Does the Raised Garden Annex Look Like?
Below are the only two pictures known to exist of my raised garden annex.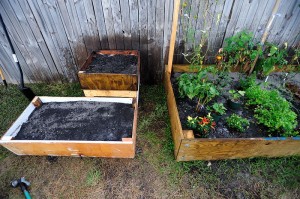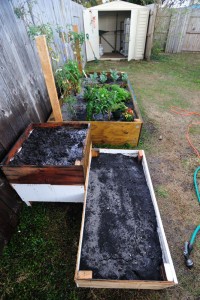 What and Why I Planted in the New Vegetable Beds
As you can see, there is one bed raised much higher than the others. That one is where my strawberries will live. As the plant grows, I'll drop the strawberries over the edge, working much like a hanging garden. That way they don't rot in the dirt.
The upper bed also has a few leftover lettuce plants and five sunflowers.
The lower bed has snap beans planted in a row along the back of the bed. The front left has watermelons and the front right has cucumbers. Once the watermelons start growing, I'll set them over the side of the bed.
Growing Vegetables From Seed — Cross Your Fingers
The main garden used exclusively plants that already had some life to them. The annex, except for the strawberries, is all from seed. I hope it does okay. Already I see little shoots from the sunflowers. I hope they add pretty to the garden.
—Farmer Matt
Tags: 12 Comments