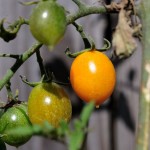 We have been pulling the oh-so-sweet sun sugar tomatoes off the vine and popping them into our mouth since the very first day we planted them. Sarah even grabbed a handful of cilantro for some pulled-pork tacos. But, we hadn't really made a meal using our garden until Saturday afternoon.
Garden Fresh Jalapenos and Bell Peppers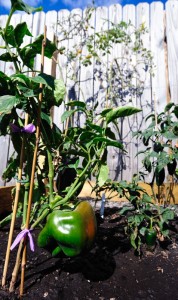 Nachos, in our house, have very few rules. Basically, whatever is in the refrigerator is fair game so long as it is sitting on top of tortilla chips and smothered in cheese. Saturday, we had some leftover rotisserie-cooked chicken, some black beans, week-old refried beans and some kernel corn.
Flush with hunger and inspiration, I went out to my brand new backyard raised vegetable garden and picked two bell peppers, four jalapeno peppers and some pretty ornamental peppers (for color and general pizazz).
How to Make Chicken Nachos Steinhoff Style
The tortilla chips go into the oven at 350 degrees with a layer of Velveeta cheese. (Yes, Velveeta
.) The Velveeta acts as a moisture barrier, protecting the chips from the juicy toppings to be added shortly.
All the ingredients go into a skillet where they are heated and seasoned (salt, cracked black pepper and a hot spice of your choosing ).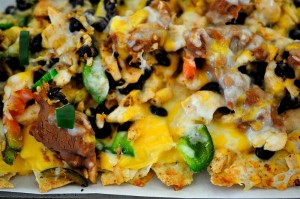 Once the Velveeta has melted, take the (now even crispier) chips out of the oven and dump the skillet over the chips. Sprinkle the top of the concoction with shredded (non-Velveeta) cheese. Toss it all back in the oven on broil until the cheese is pleasantly melted.
Serve, still on the cookie sheet on which you baked them, with salsa and sour cream. Keep eating until you feel ill.
Fresh Garden Foods We Have Eaten
I should really be keeping track of how much this garden produces. So, starting today, I'll keep an updated total of what we have eaten out of the garden. Here is the list thus far:
more than a dozen sun sugar tomatoes
two green tomatoes
half a dozen fairy tale eggplant
two bell peppers
four jalapenos
half a dozen ornamental peppers
a fist full of cilantro
I'm also going to keep track of what we have made with our home grown foods. I may not let you know about every meal but I will highlight some specialties or meals made completely from our garden.
—Farmer Matt
Tags: 5 Comments