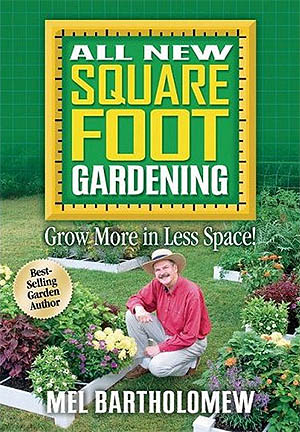 My father-in-law, Devon, was kind enough to send me a copy of All New Square Foot Gardening
by Mel Bartholomew.
I have heard of this book before but didn't realize it was so darn popular. Everyone seems to have heard about Square Foot Gardening. In fact if everyone who bought or read his book had a garden, we'd all be self-sufficient.
Mini Book Review for Square Foot Gardening
The book is easy to read and even easier to scan. I really like his methods because they are completely mechanical. Follow his instructions exactly and plants will pop out of the ground like gangbusters, I'm sure.
If you have never grow vegetables before, this might be a nice way to get started. There is no lack of specific instruction in the book. In many ways, I wish I had started with his system. Then again, I have more than 40 square feet of garden and am finding it not enough.
One warning: no one can seem to find his secret sauce, vermiculite, locally. (Check the Amazon reviews for details and alternatives.) If you are serious about following his book, make sure you can find vermiculite.
New Palm Beach County Gardeners Wanted
I'm too far along this season to try the Mel's square foot gardening methods but I'd like to find someone locally who would like to embrace his book. So, anyone want to be my test subject?
I'd prefer someone in the Palm Beach Gardens area so I could easily take pictures of your backyard square foot vegetable garden on a regular basis. Still, I'll take just about anyone or a bunch of anyones. Comment below, if you are interested.
—Farmer Matt
Tags: 8 Comments