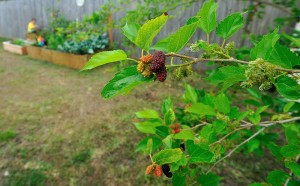 A friend of the family gave us some mulberry plants a year or so ago. They were less than 18 inches tall and haphazardly tossed in pots. We planted them along the fence and figured they would die soon enough.
Mulberry Bushes Turning into Mulberry Trees
The mulberries are now 20 feet tall and their bases are more than three inches in diameter. Best of all, they are covered in mulberries…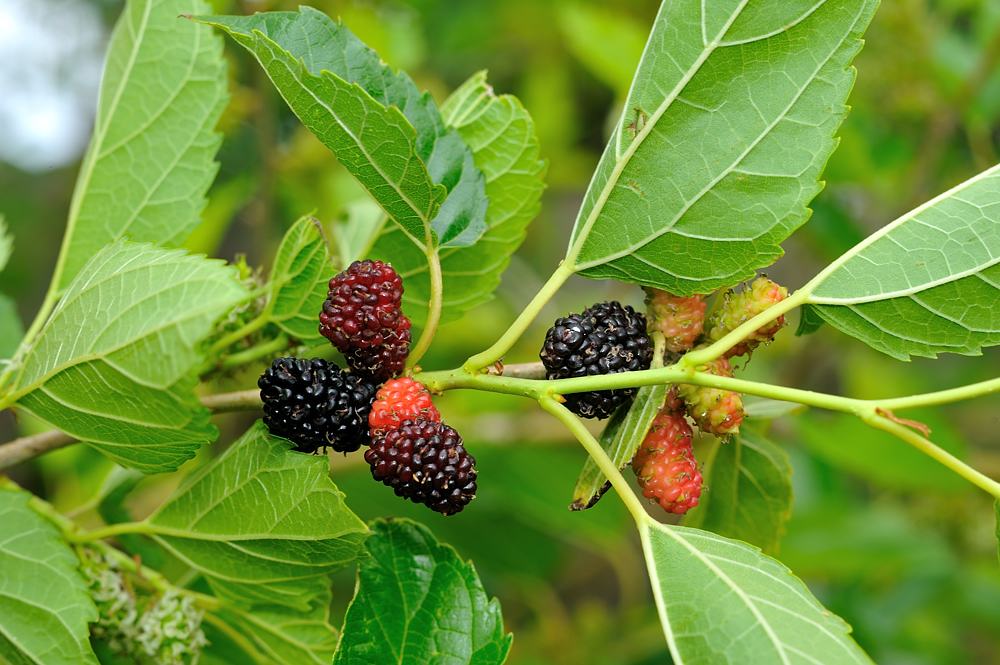 Each time we go out in the backyard to check on the garden, we pick the black, ripe mulberries. This inevitably leads to a family with stained hands and full bellies. There are so many mulberries I keep thinking that we will try canning mulberries but they never make it to the kitchen without being consumed.
What Variety of Mulberry Do We Have?
I'm going to guess we have black mulberry trees. According to this web page about all things mulberry, the black mulberry only grows to about 30 feet tall. The red and white mulberry trees can grow to 80 feet tall. Given that ours are about full grown and just 20 feet tall, I think they are black mulberries.
The black mulberry, while smallest of the varieties, is the longest-lived. A black mulberry will produce fruit for hundreds of years while red mulberry rarely makes it 75 years.
Mulberry Wine?
Hmm… A few web sites recommend brewing mulberry wine. I hate wine but it might be fun to try making wine from my very own muberries. Anyone tried that?
—Farmer Matt
Tags: 105 Comments