Yes, there really is such a thing.
The leaves of my tomatoes were dragging in the mud. They were so scraggly that they were covering the okra plants in the row next to them.  I needed to clean them up.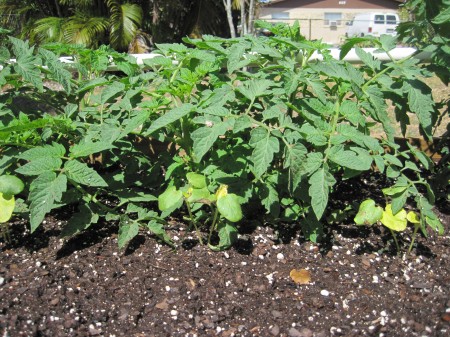 Tomato Plants in Need of Pruning
Suckers… not the Lollypop Kind
While doing so, I remembered a neighbor telling me I needed to pinch off the 'suckers', too. Since I had never done that, I retired to the Internet and Googled 'removing tomato suckers'. I chose an article on the Wikihow website. Boy, was there a lot of information about something I had never done.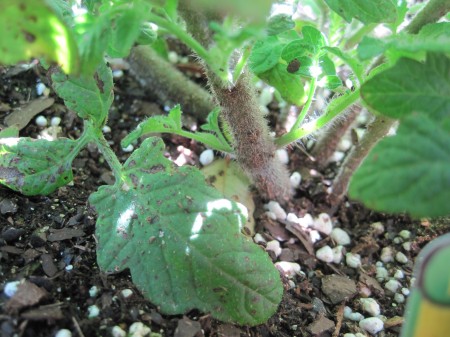 Tomato Plant Stem
I found out that the little bunch of leaves above a big leaf is the 'sucker' that should be removed, and that all leaves below the first flower should be removed, as well. The Wikihow site also had an alternate way of pruning called 'Missouri pruning'. "Missouri pruning entails pinching out just the tip of the sucker, leaving one or two leaves behind for photosynthesis and to protect developing fruit from sun scald." Very interesting.
But why do this?
The object of growing your own tomatoes is to have lots of big, fresh, tasty fruit all summer. Removing the suckers and the excess leaves on the bottom of the plant is done to redirect nutrients. No fruit will set below the first flowers on the plants, so don't waste plant energy and nutrients on unwanted foliage.
As the plant grows, the lower leaves will yellow and dry out. Remove those as well. Take all dead leaves and pruned material away from garden plants and away from the garden area. This will help prevent disease.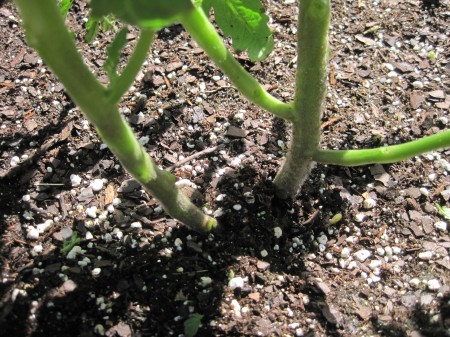 Pruned Tomato Plant Stems
Looking Good
My plants had leaves dragging in the mud and most do not have flowers yet, so I did my own version of the process.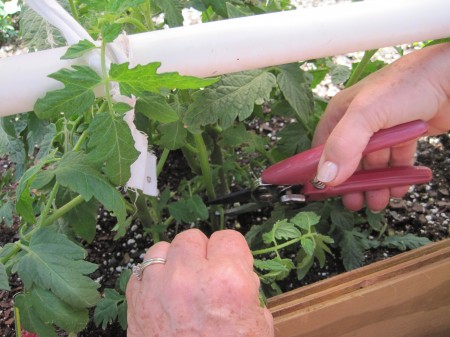 I pruned the tomatoes with a pair of garden shears, in addition to my nails. The muddy leaves are gone and so are quite a few of the 'suckers'.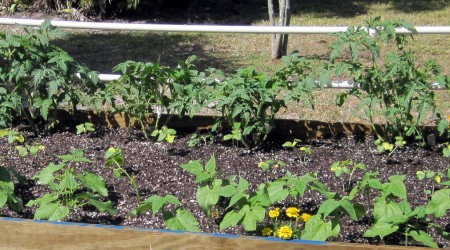 I think the stems are cleared of enough foliage to stay healthy, and they don't look bad at all. The sun even hits the okra, now.
By the way…
If you work in the Florida sun, or any direct sun, use sunscreen and consider wearing a big hat. I had mine on today.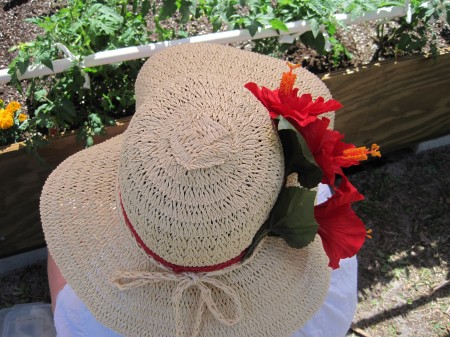 I added the red hibiscus for a St. Louis Cardinals spring training game recently. I liked them so well, I'm keeping them.
Click on any picture to make it larger.
Tags: above ground garden · Okra · pruning tomatoes · Raised Garden · Tomatoes3 Comments