Chewed and Stunted Okra
I have the first pest problem of this gardening season. I have scads of voracious aphids on my okra.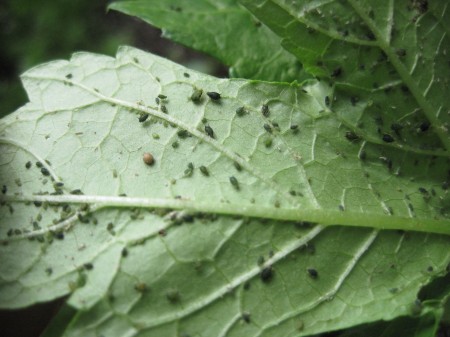 Okra Leaf Covered with Aphids
Because they suck the juices from the newest, most tender growth, the okra pods never get more than 1/2 and inch long before they shrivel. (Click on any picture to make it larger.)
Soap
One of the safest and most common deterrents for aphids is soapy water. It isn't really known how the soapy water works, but it is thought that it does something to the cell membranes or maybe removes the protective wax from the insect.
Soapy Water Applied to Aphid-covered Leaves
The biggest downside to the soapy water is that you must apply it every day or so and get it on the bottom sides of the leaves where the aphids are. I mixed a few drops of liquid dish detergent in a pint of water and applied it for several days. I couldn't keep up with the aphids. They multiply way too fast.
The soapy water did not get rid of the aphids fast enough for the okra to recover and grow. It was time to try something else.
Bring Out the Big Guns
Time for Plan B… Lady Bugs! The internet is your friend. It guided me to Hirt's Gardens . The company had the package to me in two days. The ladybugs arrived in excellent shape and were crawling  around inside the net containment bag.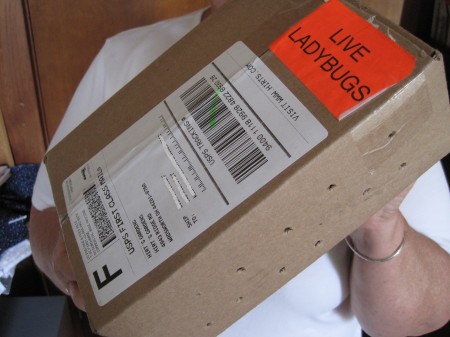 Mail Order Ladybugs
I have been cautioned never to  accept gifts with air holes. This time, I was delighted at the prospect of seeing what was inside. I ordered a relatively small number… 1500… ladybugs. I was ready to do battle with the unrelenting aphids.
Taking the Ladybugs to Lunch
Per instructions, the ladybugs were released in the evening. Because they do not fly at night, they tend to stay on the plants long enough to find the aphids.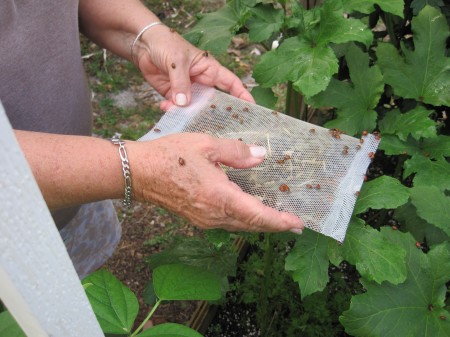 Releasing Ladybugs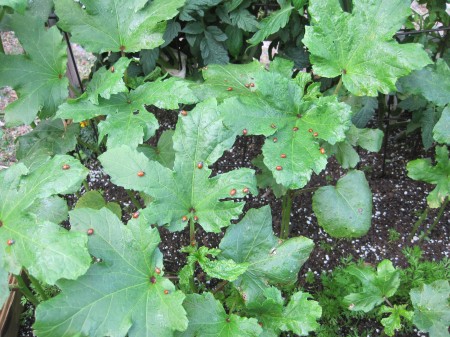 Ladybugs on Okra Leaves
The ladybugs went to work immediately eating aphids.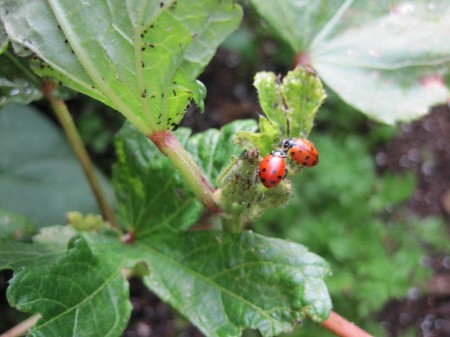 Ladybugs Eating Aphids
I checked the next morning, and there were still ladybugs in the okra munching away on the aphids. I'll let you know in a few days if they do the job.
Tags: above ground garden · aphids · garden pests · Ladybugs · Okra4 Comments