Trees on the Property – History
When we bought our house in 1976, the property had fruit trees that were already about 40 years old when we moved in. There were three coconut palms, two mangos, two avocados, a sapodilla, a calamondin, a grapefruit, a naval orange, a tangelo, a tangerine and a key lime.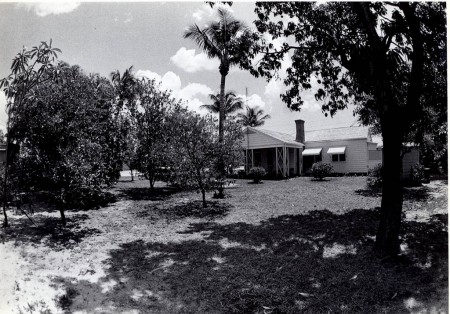 Property in 1976
One of the first things I learned was that citrus trees have a lifespan of about 50 years, and  within 15 years, the citrus trees began dying off. The key lime is unique and rare, so I had many requests for fruit. I decided to grow key lime trees to give away with the fruit.
Key Lime Trees from Seed
Our original key lime tree was not a grafted tree, so the seeds would grow actual key lime trees. I gave away many seedlings, and I planted two new trees on this property… the last one, when my younger son was born in 1980.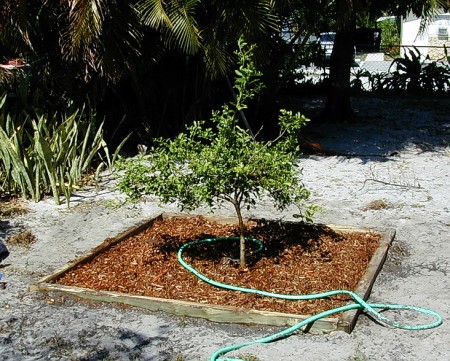 Key Lime Tree
Rough Hurricane Season
Hurricane Francis in 2004 dropped a huge tree on top of my son's key lime, breaking it off and killing it.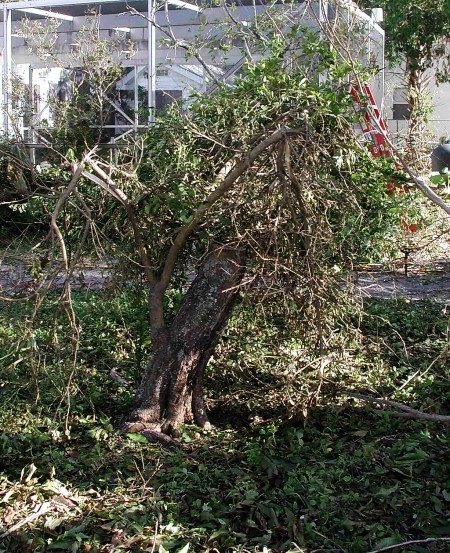 Hurricane Battered Key Lime Tree
The second homegrown key lime fell victim to citrus canker in 2010. I had saved a lot of key lime seeds, but because of the citrus canker restrictions, I was not allowed to plant any type of citrus in our area. I have tried planting my saved seed several times since the program was dropped in 2006,  but I have had no luck starting new trees. The seed may be too old.
Shopping for Another Key Lime Tree
I finally came to the conclusion that the only way I will have key limes again is to buy a tree… and that is exactly what I did last weekend. I went to the Palm Beach County Rare Fruit Council's plant sale at the fairgrounds. I came home with an avocado tree ( a story for another time) and a key lime tree. The key limes sold out at the event, but I was given a business card directing me to Excaliber Rare Fruit Nursery from which the sale plants came. It was a well-stocked nursery with many rare fruit trees and a knowledgeable staff.
We put the key lime into the van with the avocado tree and headed home to plant.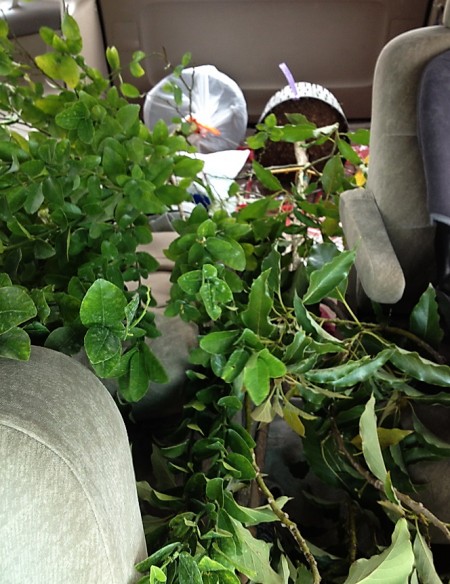 Traveling Trees
In the Ground
Anyone who has purchased those little marbled-sized green things (very poor quality, unripened key limes) in the net bags from the grocery store will tell you that there is nothing that tastes like a ripe key lime.  It is unique and unforgettable.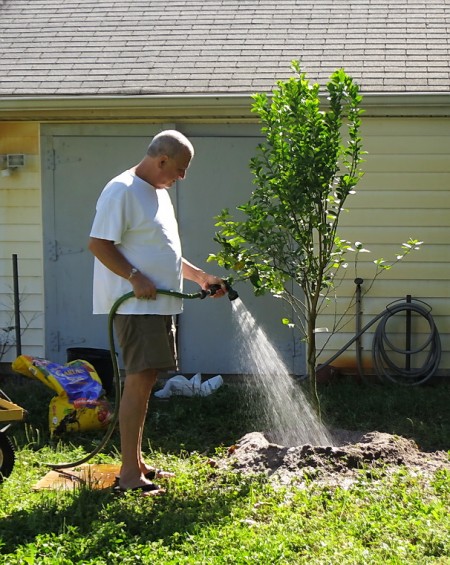 Water for New Key Lime
My gardening partner Bill dug holes and helped plant the new trees. There are key limes on the horizon quicker than I expected. The new tree is covered with tiny key limes.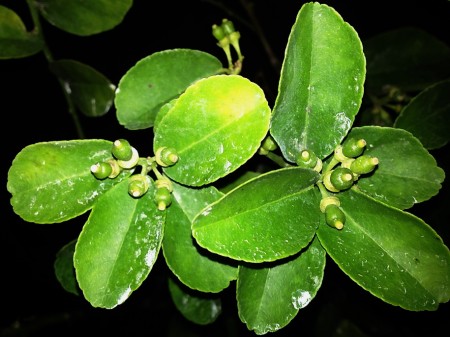 Tiny Key Limes
I am very excited about the prospect.
Tags: key lime treeNo Comments