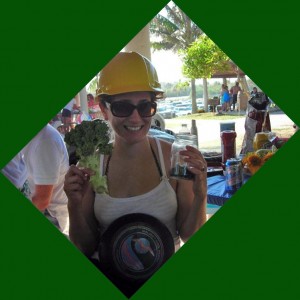 Amanda has been a friend since we both attended Forest Hill High School back in the day. Her birthday a couple weeks ago. My wife was out of town visiting her garden-hating sister.
I had no time to shop as I was taking care of our son while she was gone.
What to do?
Fortunately, Amanda is a Tree-Hugging Vegetarian
But wait! I have a raised vegetable garden and Amanda eats vegetables pretty much exclusively. While she tends towards fake vegetables, the kind you buy in stores, I'm sure she'd appreciate real vegetables, too.
What I don't have, however, is any talent at turning a bunch of random garden vegetables and mulberries from my raised garden into something worthy of presentation to a birthday girl.
Stefani, Palm Beach Organizer and Present Stylist
The conversation went something like this…
Me: 'Stefani, save me. Sarah is out of town. I have to make something look pretty. I realize it's early on a Saturday morning and I'm calling you at the absolute last minute but I need organizational presentational magic.'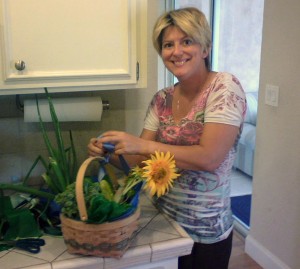 Her: 'No'.
Me: 'Please'.
Her: 'No'.
Me: 'Please'.
Her: 'No'.
Me: 'I'll promote your organizational, bookkeeping and personal assistant business in my world-renowned raised vegetable garden blog.'.
Her: 'Okay, but you owe me.'
And, thus, the best Organizer for Palm Beach and Jupiter, Stefani made present magic happen.
Amanda Liked the Basket of Garden Goodies
The jar of picked-that-morning mulberries were gone even before the party was over. Much of the broccoli was eaten, dipped in ranch dressing. The sunflowers were admired by all. All in all, the present was well received. The backyard raised vegetable garden, once again, saves the day.
—Farmer Matt
Tags: 3 Comments