No More Turkey, PLEASE!
Thanksgiving and Christmas have come and gone. We had turkey both times. Members of my family are beginning to turn green at the sight of turkey anything… and I'm leading the green parade.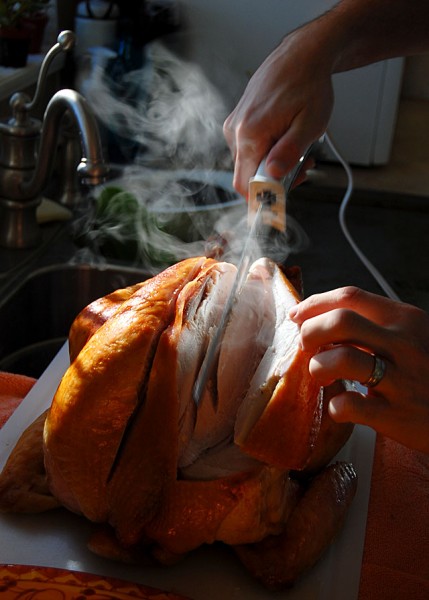 Thanksgiving 2010
If you looked at this beautiful picture and didn't pale at the sight, you may return to your regularly scheduled programing. If, however, you REALLY need something else for New Year's dinner with the family, I have a solution I guarantee you will like. Of course, this is super good anytime… year round.
Grandma's Chicken and Dumplings
My number one comfort food is homemade chicken and dumplings, and it fits any occasion.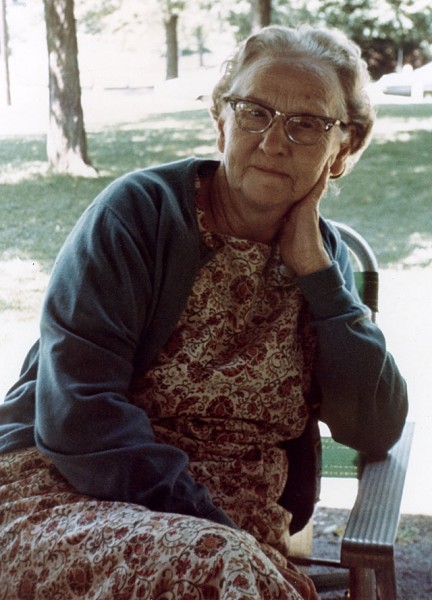 Grandmother, Christine Diebold Hoffman, c1970
I learned to make chicken and dumplings when I was about 12 years old by watching my grandmother, Christine Hoffman. I stood next to her while she cooked and remembered what she did. Luckily, she and I were on the same cooking wavelength, so what she did translated well. I understood 'a handful' of this or 'about that much' of something else.
The recipe that follows is transcribed from my memory. I never had specific measurements and this is the first time the recipe I use has been written down.
Chicken and dumpling ingredients
1 lb chicken
1 egg
1/2 cup sliced carrots
1/2 cup sliced celery
1/2 cup sliced onions
1 clove finely chopped garlic
1/2 cup finely chopped parsley (if using dry, use 1 tablespoon)
1 carton of chicken broth
all-purpose flour
Salt and fresh ground pepper to taste
Chicken preparation
I do the chicken in a pressure cooker for 20 minutes to speed up the process. Cook chicken with about 2 inches of water and add sliced carrots, sliced celery, sliced onion, chopped garlic and parsley. Add about 1/2 teaspoon of salt and a few twists of fresh ground pepper. (Or if you have the time and patience, you can put it all into a stew pot, cover it with water and simmer it for 2 or 3 hours.)
Once the chicken is done, remove the meat and vegetables with a slotted spoon, so that you have only broth in the pan. Add a carton of low sodium, fat free chicken broth to that in the pot to make about 6 cups of broth and heat to a simmering boil.
'HOW TO' Video for Homemade Dumplings
In a deep bowl, whisk an egg and one cup of cooled chicken broth. Add flour in small amounts and whisk until mixture becomes too thick to whisk. Use a spoon to stir in more flour until the mixture is a soft dough.
Put a generous amount of flour on a pastry cloth. Place a 3-inch in diameter ball of dough on the cloth and cover it with more flour. Pat the dough flat and flip it several times until it looks rectangular. Rub a rolling pin with flour and, very lightly, roll the dough thin… about 1/8-inch thick.
A Pizza Wheel Beats a Paring Knife
Use a pizza wheel to cut the thin dough into dumpling sized squares. Drop the cut dumplings, one at a time, into chicken broth brought to a rolling boil.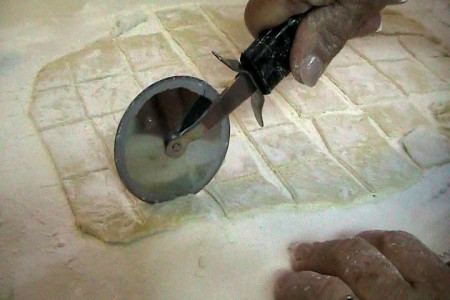 While the first batch of dumplings is cooking, place another 3-inch ball of dough on the floured pastry cloth and repeat the process.
When the next dumplings have been cut, use a slotted spoon to remove the first batch of dumplings from the broth into the container with the chicken. Repeat the process until all the dough has been used.
The broth will be thick by the time the last batch of dumplings is cooked. Empty that last batch of dumplings and the remaining broth into the container with the rest of the dumplings, chicken and vegetables.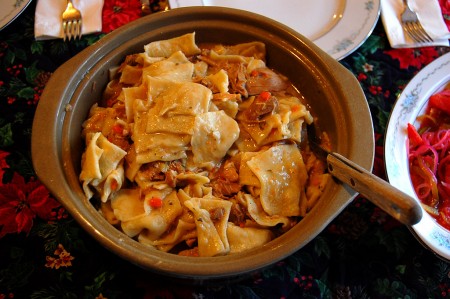 Chicken and Dumplings
Stir to mix with a wooden spoon. (A metal utensil will cause the dumplings to tear.)
This amount serves 4 to 6.
Turkey Relief
Hopefully, sharing Grandma's recipe, for the best dumplings ever, will save you from the dreaded turkey a la king, turkey and rice casserole, turkey soup and any other dish with even a hint of leftover turkey. AND dumplings go very well with black-eyed peas and collard greens. Happy New Year!
Tags: chicken and dumplings · Christine Hoffman · recipe · Thanksgiving · turkey1 Comment