New Year's Tradition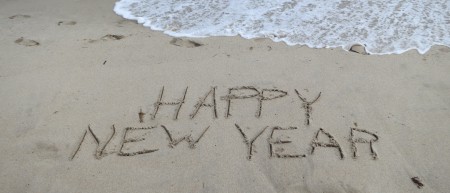 Our family welcomes the New Year with traditional food. We usually have ham, black-eyed peas and greens for good luck and prosperity in the New Year.
Broccoli
We planted broccoli for the first time this past October. It has come up and is way bigger than I thought it would be. The leaves are huge, and there are a lot of them.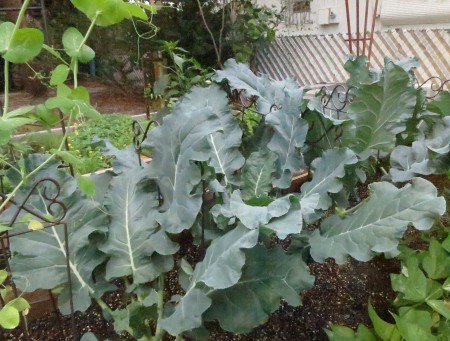 Broccoli
Today, friend Jan, of Jan Norris: Food and Florida blog fame, came to get lettuce and herbs from the garden. I was pulling broccoli leaves away from the green beans planted in the same box. She mentioned that broccoli leaves could be eaten the same way we eat collard, kale or mustard greens. I had no idea, but it sounded like New Year's dinner to me.
Cooking Greens for New Year's Dinner
I picked 12 broccoli leaves, and they made quite a stack. After washing them, I prepared them in the same way I would any other big leafy greens.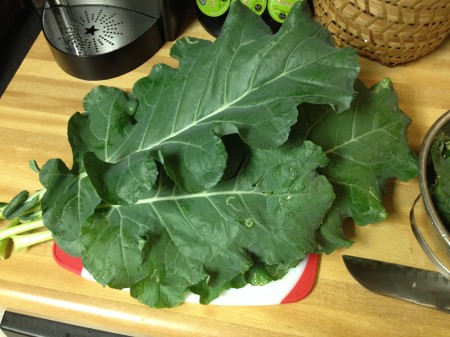 Broccoli Leaves
To give you an idea of the size of  the leaf, the cutting board I used is 9 x 14 inches. The leaves were bigger than the board.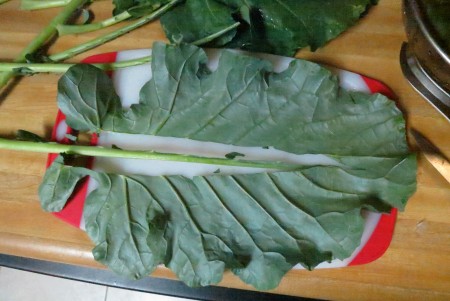 Remove the Stem
To begin, the tough stem must be removed. Turn the broccoli leaf face down and draw a sharp knife along both sides of the stem all the way to the top of the leaf. Remove the stem, so the leaf part is all that is left.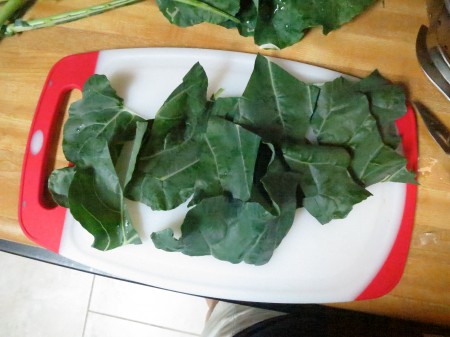 Cut Broccoli Leaves
Once the stems are removed, cut the leaves into pieces for cooking. I like rather large pieces to give the finished dish some substance. Twelve broccoli leaves, when chopped up, more than filled a large colander.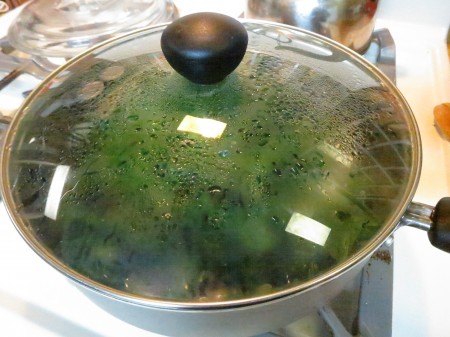 Wilting Broccoli Leaves
Place the leaves in a skillet containing sauteed onions and garlic, and cover the pan so the leaves wilt down. Usually, 10 minutes is enough time.  Add a cup of chicken broth, cover and cook for about 45 minutes until the leaves are tender. I add just a bit of fresh jalapeno from the garden to give the greens a little heat. A little goes a long way here.
So good…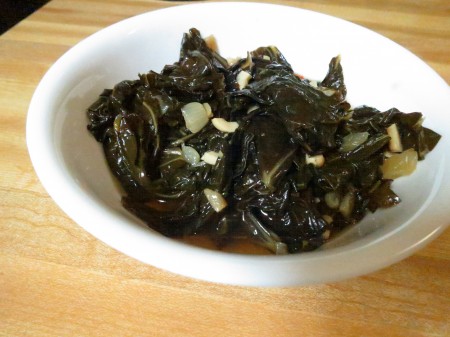 Ready to Eat Broccoli Greens
The large colander heaped full of leaves cooked down to about two cups of edible  greens. The broccoli greens are not strong like mustard greens. They taste more like collard greens, but they have their own subtlety. I like them.
I am delighted to know that I can use even more than I expected from the broccoli plant. Thank you, Jan!
Tags: above ground garden · broccoli · cooked greens · Jan Norris: Food and Florida · Raised Garden · Vegetables3 Comments