Memories and Tradition
The Steinhoff's Christmas is a trip down a very long memory lane. Some of our traditions are relatively new, like using a non-traditional tree. Some of the memories are tied to ornaments that are more than 40 years old, some of which were made over the years by family members. Some decorations were gifts from friends and relatives and mean a great deal to us.
Today is Christmas Eve… a good time for sharing one family's memories.
Norfolk Pine
Our Christmas tree lives on our pool deck all year, except for two weeks at the end of December. Its two weeks indoors began four days ago.  We have used this potted Norfolk pine for our tree since 2008.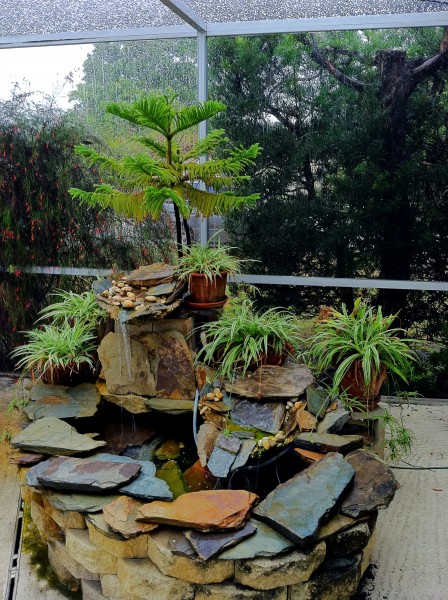 Norfolk Pine on Pool Deck
Since we have a live tree, I don't like for it to be inside for very long, especially in a room with little light and air conditioning drying it out 24-7. It is brought inside late in the month, and it is back outside before the new year begins.
Time to Decorate
Grandson Malcolm has helped decorate this tree several times, and he was back to help again this year.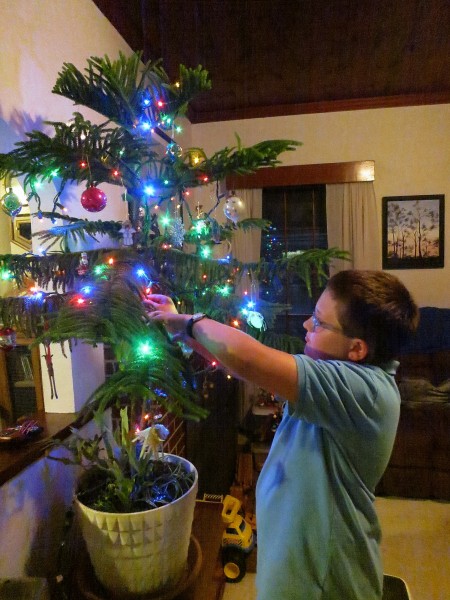 Malcolm Decorating Tree
Most of  ornaments going on this tree have been used for many, many years. The glass ornaments were purchased for our first Christmas in 1969. Eleven of the twelve have survived 44 years.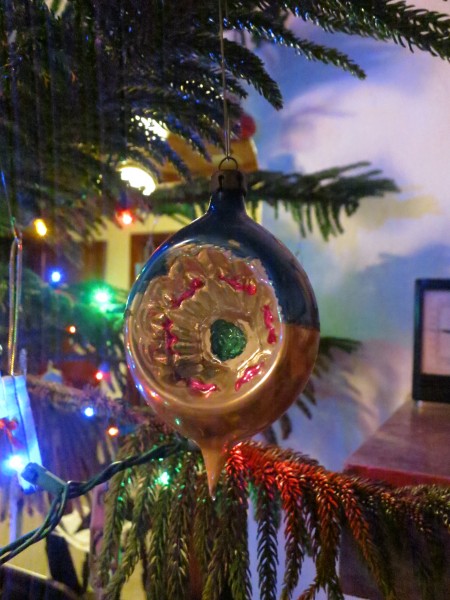 Glass Ornament from 1969
One of our most unique ornaments didn't start out as an ornament. It was given to Ken by an old guy in Ohio who carved chains from single pieces of wood. We didn't know how to display the chains, so this small one became a Christmas ornament.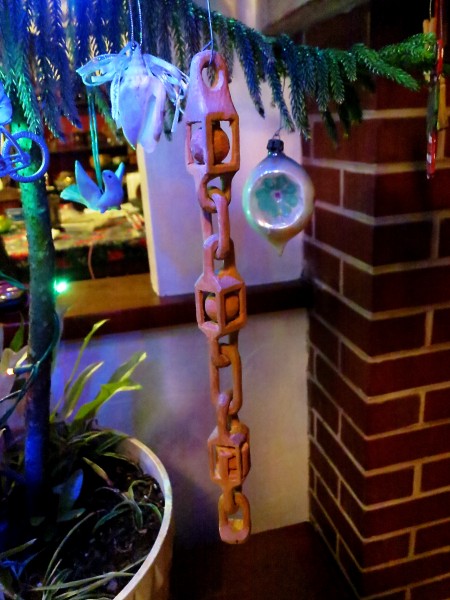 Hand-carved Wood Chain
In 1976, my mother-in-law, Mary Lee,  painted a bunch wooden ornaments for our oldest son who was 15 months old at the time. They go on the tree every year.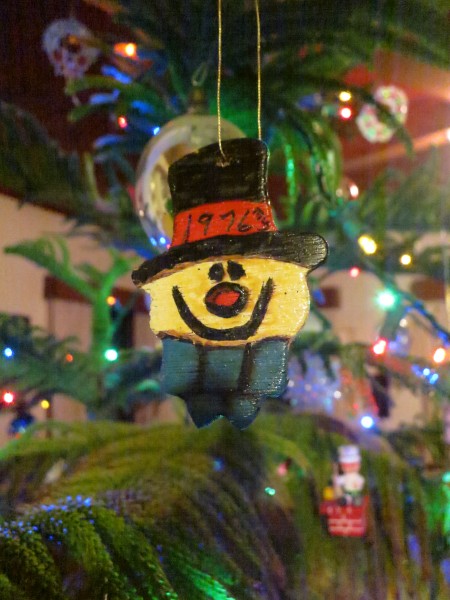 Hand-painted Wood Ornament
Over the years, she has made many other ornaments using everything from fabric and fiberfill to plastic grids and yarn.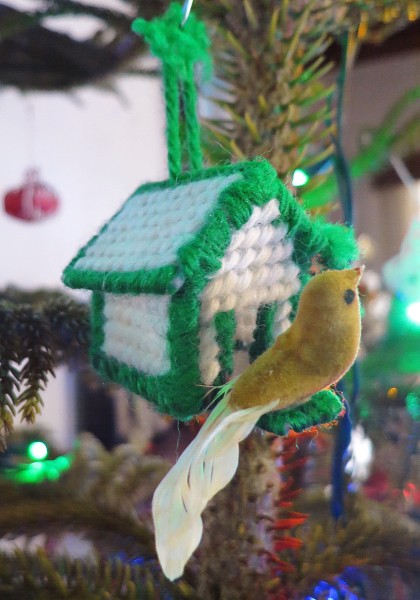 Hand-sewn Bird House Ornament
While my sons were young, I made various ornaments, as well. Metal molds with plastic crystals to melt in the oven were very popular for awhile.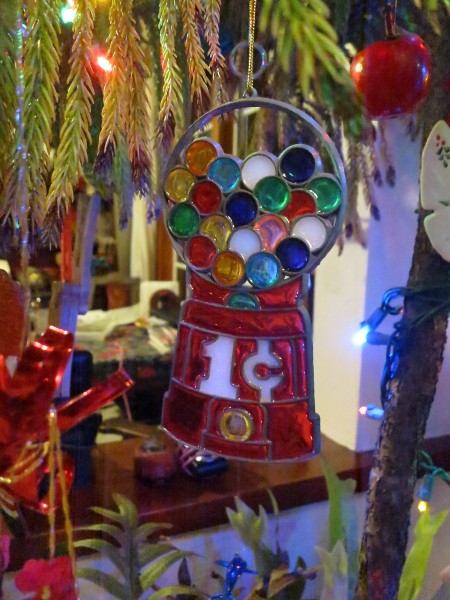 Metal and Plastic Ornament
One year, I decorated different kinds of seashells. They are some of my very favorite ornaments.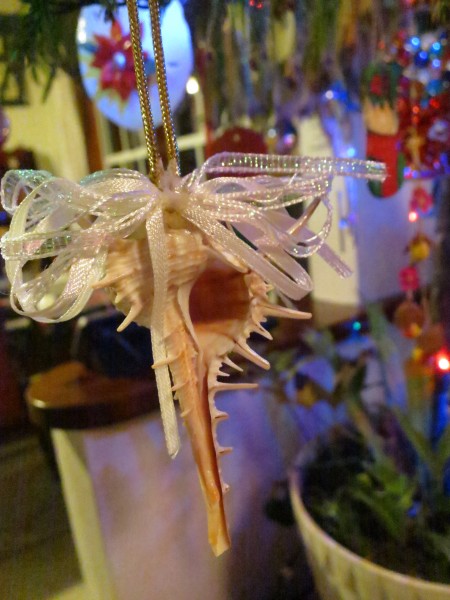 Seashell Ornament
I tried my hand at painting wooden ornaments, and most recently, a friend and I made clothespin reindeer. When ornaments are made, they are labeled with the initials of the person making them and the year they were created. It makes remembering the story of each much easier years down the road.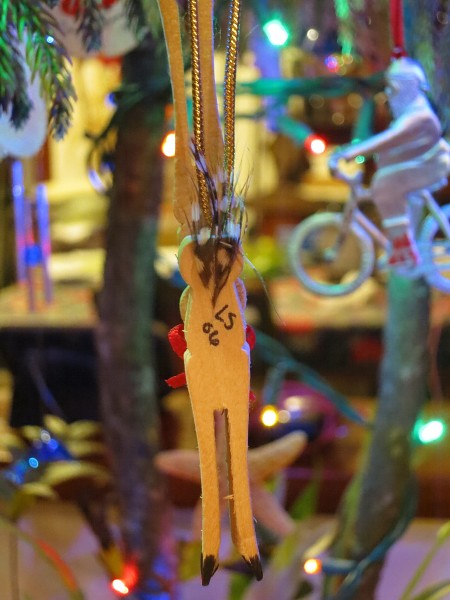 Dated Clothespin Reindeer
Joy from Others
Years ago, I taught my niece, Laurie, (of Annie Laurie's Antiques) how to do counted cross stitch. She made ladybugs which I put into a frame and hang on the tree each Christmas.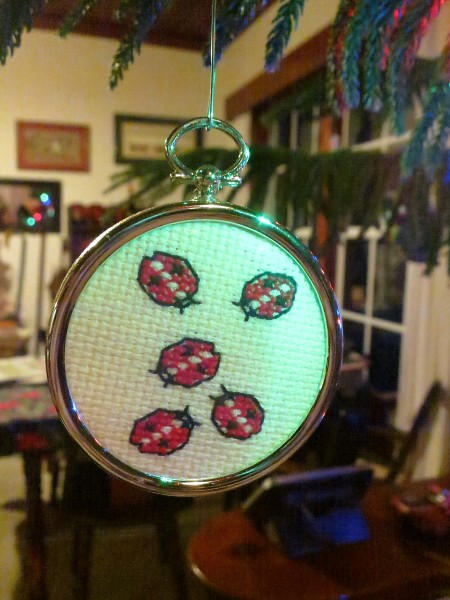 Laurie's Cross Stitch Ornament
We have a friend, Joe Snell, whom we have known since high school. Each year, he has included a crocheted ornament in his Christmas card. They are like snowflakes. Each one is different.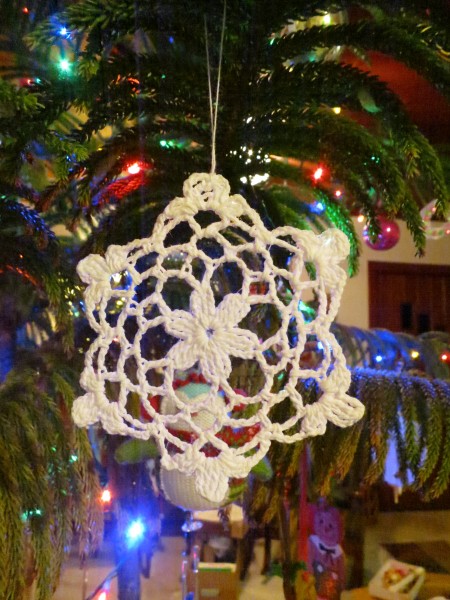 Joe's Crocheted Ornament
There are Santas and angels of all sorts that I have received from friends and relatives. I unpack them every December and remember the giver. My sister, Marty, gave me a Santa and Reindeer that reside on my mantel.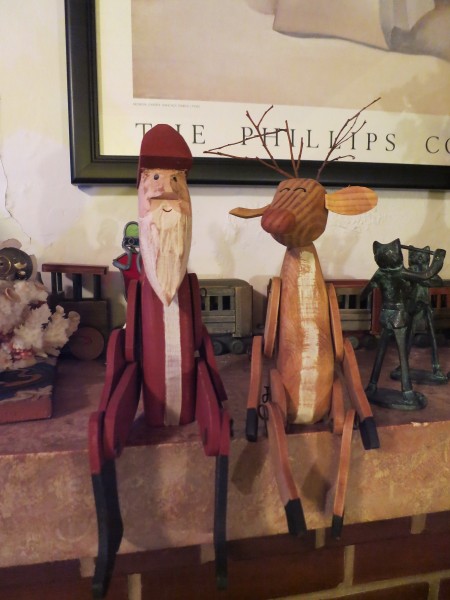 Santa and Reindeer
I have another set that takes up residence on my desk. I love the tall, thin design and Santa with an apple rather than a bag of toys.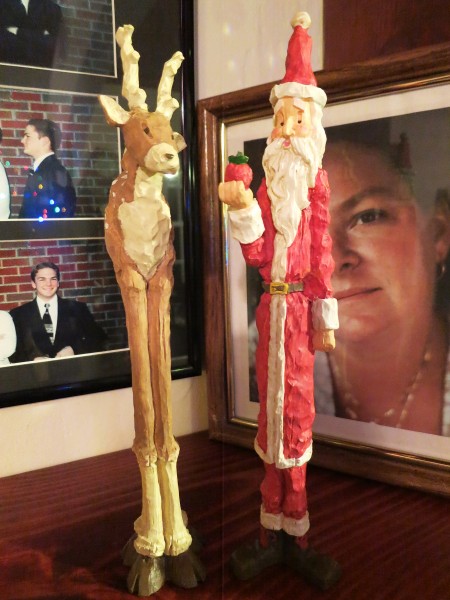 Santa and Reindeer
The reindeer necklace finds a new place each year. This year it is on the piano.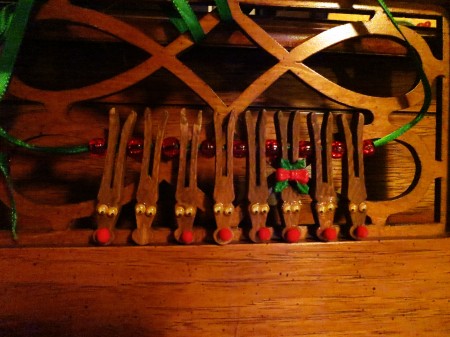 Reindeer Necklace on the Piano
The tree does not have a pointed top, so there is no place to put the angel that was given to me by a very special student of mine, Brent, and his family. The angel and the Christmas starfish are set at the bottom of the tree instead.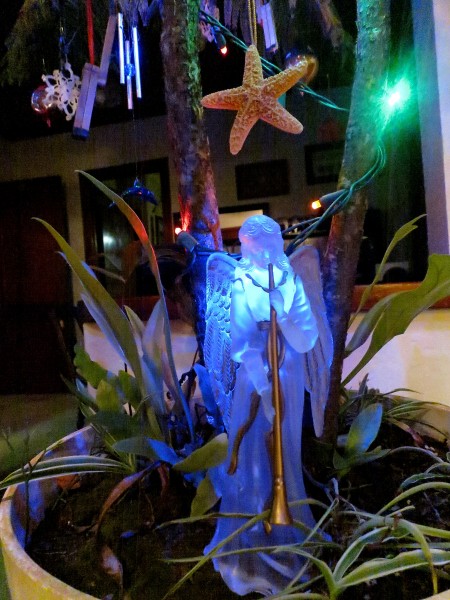 Angel and Christmas Star
Memories from a Cardboard Box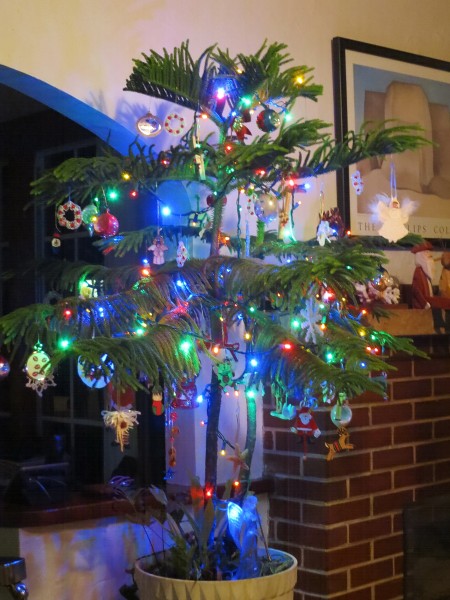 Norfolk Pine Christmas Tree
There are so many memories packed in boxes that come out of the attic once a year. I will share some of them below. These are Steinhoff family treasures. I'm guessing that seeing them will spark some recollections of your own.
Tags: Christmas Ornaments · Christmas tree · Norfolk Pine Tree2 Comments