Still Growing
It is the first of July, and the garden is nearly done for the season. The days are in the 90s,  the sun is unrelenting and the remaining plants are losing their leaves and getting spindly. It is just about time to pull up everything and prepare the boxes for the summer. .. except the okra.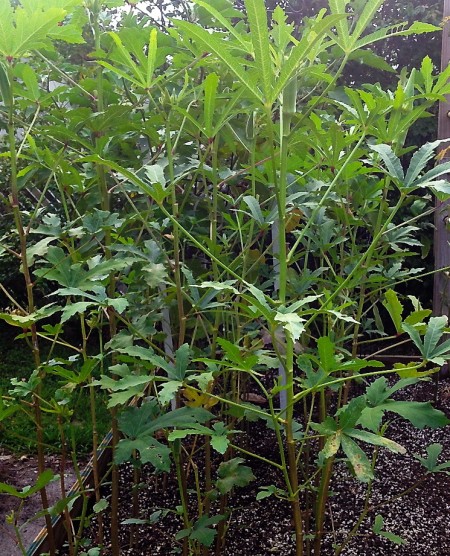 Okra Plants
Okra takes the heat very well. I do have to water it every day, but it is still blooming and producing.
I am getting enough okra for supper at least twice a week.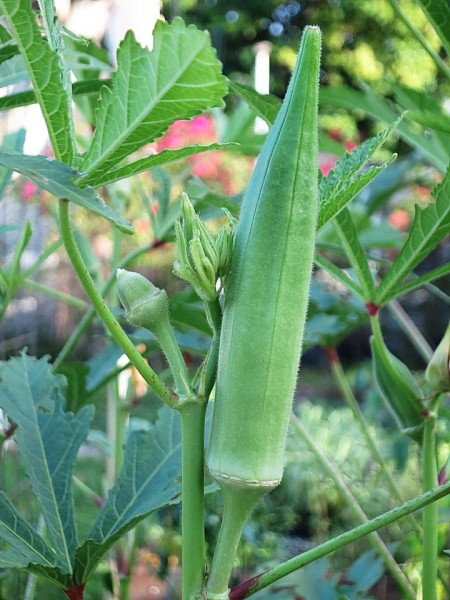 Okra
Okra is ready to eat when the pods take on a long, cone shape with noticeable ridge lines. The mature size ranges from about 3 to 5 inches. If okra is left on the on the plant too long, it develops fibers that are too tough to chew and is not good to eat.
My okra patch is roughly 4 feet square and will produce a few pods every day.
I cut the pods that are mature and store them in the fridge in a plastic bag with a barely damp folded paper towel in the bottom. This keeps the okra fresh until there are enough for a meal.
Okra is on my favorite food list. I would guess that most people have eaten fried, breaded okra chunks or had it in gumbo at various restaurants.  Many others have been repelled by the nightmare version… boiled and/or slimy. That is so NOT what you get if it is fried fresh from the garden. Okra, fried whole in the pod, is my favorite way to eat it.
How I Cook It
Begin with a skillet large enough to contain the okra in a single layer. I like a cast iron skillet best, but occasionally, I have used a large non-stick skillet. Both work very well.
Heat a thin layer of oil in a skillet and sprinkle a little salt in the bottom. I use olive oil and coarse sea salt.
Lay the okra in a single layer in the skillet and cook it slowly with medium heat. The idea is to lightly brown the okra, turn it and brown the other side. It takes 4 or 5 minutes on each side to cook inside and brown the outside.
Okra Feast
Place the cooked okra on a paper towel to drain and cool enough to be hand held… yes, this finger food at my house.
The perfect way to eat the okra is to put the pointy end in your mouth and bite it off at the stem. Toss the stem and repeat. So good!
Tags: above ground garden · Okra · Raised Garden · Vegetables3 Comments