Storms Dropped Immature Fruit
Earlier this year, we had some severe storms that knocked off many mangos from both my Haden and honey mango trees.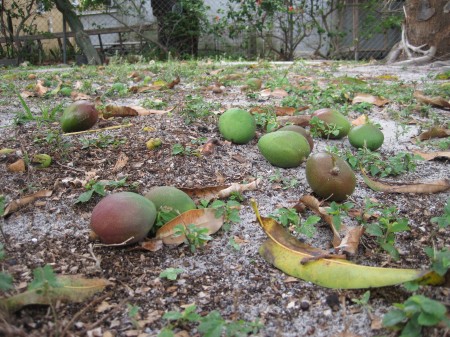 Because the immature Hadens were bigger than the mature honey mangos, I tried ripening the immature fruit.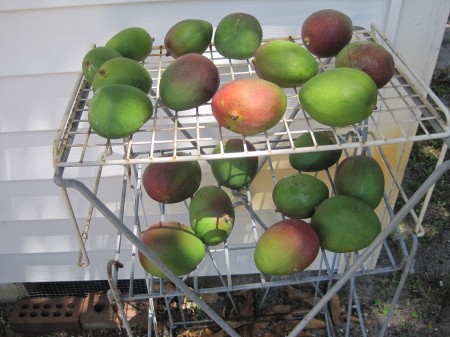 There were mixed results, but I learned that the storm-dropped mangos were edible, even at that stage of growth.
I Was NOT Joking!
Recently, someone asked me if was was joking about mangos 'as big as cantaloupes'. I was NOT joking. We just picked the first mature fruit off the Haden mango tree in my yard. They are huge.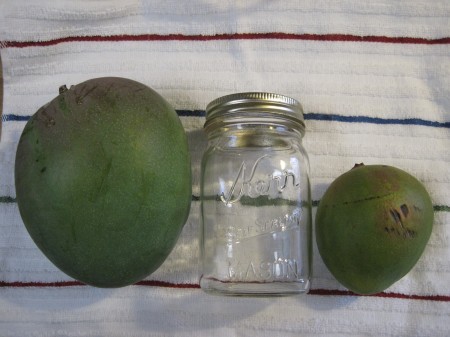 To give you an idea of the size, I have placed a pint canning jar between the mature Haden mango on the left and one that dropped too early on the right.
The Haden will ripen in three or four days and will take on a slight shade of magenta  across the top. The fruit of the Haden is very smooth, no fiber at all. Hadens are my personal favorites.
Honey Mangos
While we have had meager Haden crops for the last few years, the honey mango tree in my yard is full, as it is every year.
Honey Mangos Are Smaller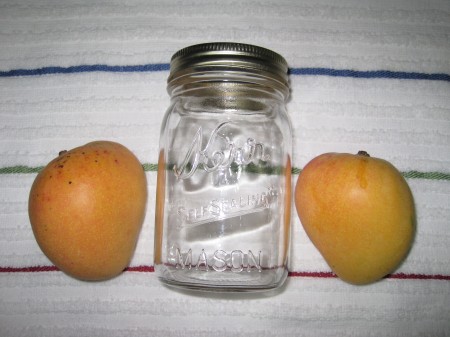 Honey mangos are much smaller than the Hadens. Again, I used a pint canning jar to show scale.
The taste of the honey mangos is stronger and more tart than the Hadens, and it's fruit is more fibrous. They are small, but well worth the extra effort to get your craving for mangos satisfied. I like them a lot.
Tags: Fruit Trees · Haden Mangos · Honey Mangos2 Comments